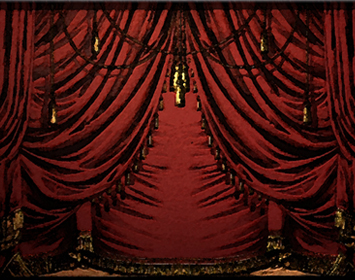 WELCOME TO OUR TOY THEATRE MUSEUM
The visitor of our Online Toy Theatre Museum will find here many images of figure sheets and scenery sheets, but also some other stuff related to toy theatre.
TOY THEATRE
Toy theatres are miniature theatres, which were sold all over Europe as cut-out sheets since the beginning of the 19th Century. The stage opening widths vary from about 25 centimeters to almost 60 centimeters. A middle-class audience bought these cut-out sheets for the edification and education of their children in theatres or bookstores. The scenery and character sheets were then cut out by the family and glued to cardboard. After rehearsals the plays were premiered in front of a hand-selected audience at home. The daughters of the house here were usually in charge of the musical accompaniment, the boys of the technology. The repertoire comprised then contemporary operas and dramas, but also fairy tales.

All artwork and content of this site are © Copyright 2012 Benno Mitschka. All rights reserved.